If you are exploring the possibility of setting up your own entity, chances are that you would have considered doing so for very many reasons: Strategic, Operational or both!
The risks and challenges of entry into another country coupled with the complexity of a different work culture, and the imperative of ensuring quick wins, may be daunting
We at CaptiveAide understand that the number of pieces that have to fall into place are many and varied. Our single-window approach is one compelling reason why you should consider letting us assist you.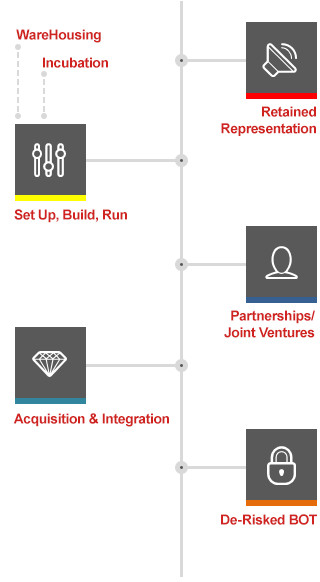 CaptiveAide can help you validate – through our assessment services

Whether should set up your entity
What you could transition to your entity in India
What your product strategy should be

We can develop your ROI/business case or do a market study, and provide advisory on your entry strategy
Your entry strategy is a key decision for you. Our aim would be ensure a risk-managed, soft landing strategy in an optimal location. Our array of solutions include:

Warehousing or Incubation
Set up (including incubation or warehousing as the initial solution ),
Partnerships/Joint Venture services
Acquisition & Integration services
De-risked BOT model

Subsequently, we take responsibility to advise on location, Setup, Build & Transition, Stabilize and Run the local entity on behalf of the global enterprise. As your local corporate function, we provide local governance and oversight
Should you choose to opt for our India Services, we would be happy to explore Retained Representation services that include

Product strategy & market representation,
Business Development,
Selective Fund Raising solutions
Case 1 : Risk Free Setup through Run and Build of an India captive entity to leverage India and build globally competitive service models, for one of the world's leading outsourcing advisory firms.
The client wanted to leverage the India story to be able to be more competitive in the global marketplace for their consulting services
The client also had, via an acquisition, an existing entity in India, that developed a proprietary product for the company, but was unsuited to be grown as the larger entity
The approach was to set up a new company-owned entity in India and merge the existing entity into the new company
Developed the business case and budgets
Used our Transition Operate Transform Outcomes (T-O-T-O) Model to execute on the plan
Conducted workshops to orient the senior leadership on getting the offshore plan right; also conducted two way culture workshops
Completed the location study and identified the right facilities, provided the design for IT infrastructure and employee facilities and ensured completion in tie for the first batch of recruits
Deployed our ecosystem partners to provide support across Finance, IT, Administration, Recruitment and HR Administration
Localized the global HR mandates and policies, developed locally appropriate Role and Compensation structures
Hired / provided the core team of managers for the facility
Continue to provide local governance and support
On time and below budget entity establishment
Nil non-compliances across all financial, legal and people processes
Significant cost savings during setup (~20%)
Quality talent hired despite client being a lesser known brand locally
Smooth integration of the existing entity and its people and assets into the new company